This page contains information regarding contract negotiations between Cotati-Rohnert Park Unified School District (CRPUSD) and Rohnert Park Cotati Educators Association (RPCEA)
The RPCEA and CRPUSD Bargaining Teams met on Thursday, January 26th to review the Extended School Year/Credit Recovery and Summer Enrichment Academy MOUs. At the conclusion of the session, we reached a tentative agreement on the Extended School Year/Credit Recovery MOU, and are very close to reaching a tentative agreement on the Summer Enrichment Academy MOU.
It was a positive and collaborative session. Thank you to all theteam members that were in attendance:
RPCEA (Ginny Mason, Craig Stone, and Joaquin Bernal)
CRPUSD (John Bartolome, Jen Hansen, Rachel Allen, Angie Scardina, and Alana DeMars)
We look forward to working together at future sessions.
Jen Hansen
Director of Human Resources
Dear Cotati-Rohnert Park Unified School District Community,
At slightly after 7pm this evening, the district and RPCEA - the union representing over 300 teachers and educators - reached a tentative agreement to end the six day strike. Their agreement covers three years, from 2021-2022 through 2023-2024. The agreement provides for a 6% salary increase in the first year, with 3% ongoing retroactive to July 1, 2021, and 3% ongoing effective January 1, 2022. The second year provides for a 5% increase, with 3% ongoing effective July 1, 2022, and 2% ongoing effective January 1, 2023. In addition, there is a $2000 one time payment in the first year, and a $1000 one time payment in the second year. In the third year, there is an increase of 3.61% effective July 1, 2023, and if COLA is higher, the parties will meet to negotiate a split of the increase.
The parties also agreed to include two emergency days in the work year calendar without additional compensation in the event that they are needed. We agreed to increase the extra duty rate to $40 per hour and to increase the service credit for new hires to 20 years. Other provisions of the prior contract remain status quo. The tentative agreement is subject to ratification by the parties.
Teachers will be returning to the classroom tomorrow, Friday, March 18th. All schools will continue on a minimum day. We are grateful to the community for their support during this difficult time, and we are looking forward to welcoming all students and educators back to the classroom.
Sincerely,
Dr. Mayra Perez
Superintendent
March 16, 2022
Dear Cotati-Rohnert Park Unified School District Community,
The District and RPCEA met for a second day with the State Mediator. No agreement was reached in this session. We were hopeful to reach an agreement to get the matter settled after our promising session yesterday. The parties will determine when to resume mediation.
Our schools continue to remain open for students on a minimum day for all school sites, with the exception of Technology High School, which will operate on a full day schedule.
Sincerely,
Dr. Mayra Perez
March 9, 2022
Dear Cotati-Rohnert Park Unified School District Community,
Listen to this message via video.
As you may have heard, the CRPUSD Teachers union (RPCEA) called for a strike beginning tomorrow, Thursday, March 10, 2022. The union includes teachers, speech-language pathologists, counselors and nurses.
The Board of Education met on Tuesday and the Trustees discussed the three-year increase request from RPCEA of 6%, 5% and 3.4%. The Board expressed the following key points:
- If We Had it to Give, We Would – The Board is deeply concerned that giving what RPCEA is requesting would risk our ability to provide salary increases for other labor groups, including custodians, paraprofessionals, office staff and other support staff. The Board feels that this is unfair to all employees. Meeting this request for all employees would lead the district to fiscal insolvency.
- Risking State Takeover and Loss of Local Control -- Insolvency means that the State takes over District management and operations. The State will not consider our school community priorities - they will do what is necessary to balance the budget.
- Ongoing 6%, 5% and 3.4% Cannot Be Sustained – This chart, shared at the March 8th Board meeting, shows what the salary request looks like over three years for all employees. All districts are required to show County Offices of Education that their budget is balanced for three years. The district is required to maintain a minimum of 3% in reserves (on the last line). As you can see, if the Board approves the request, then by the 2022-2023 school year, CRPUSD would have a negative budget with only 0.83% in reserves, and by 2023-2024 the reserve would be -3.20% (6.20% below the required minimum).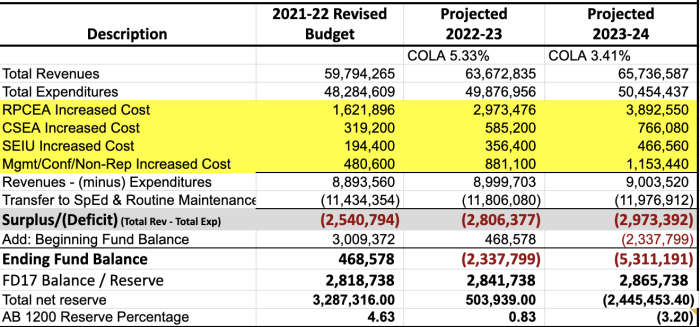 - Confusion Over State Average - We hear the plea for a living wage and see the comparisons to a statewide average teachers' salary. However, not all districts are funded the same, so the statewide average salary is somewhat confusing. The example given in last night's meeting was the per-pupil funding in St. Helena Unified School District, which is $33,476; while the per-pupil funding in CRPUSD is $13,482. To compare what these two districts can pay their teachers, when their income is so vastly different, creates a situation where we are not comparing "apples to apples". The California average teachers salary is $84,659. The increase offered by the Board of Education would increase the CRPUSD average teacher salary to $75,715 starting July 1, 2022.
- Hear for Yourself – The board members discussed at length the state of the budget and how the RPCEA request would impact the District. The full meeting is now online. The Trustees' discussion about the budget can be heard here.
Preparations during the teacher strike:
- We are prepared for students to attend school. Our schools will be open tomorrow, with the exception of Monte Vista Elementary due to staffing. Information has been sent to families at each school from their principal.
- Schools that are open will follow a minimum day schedule. Technology High School will be open on a full day schedule. Each school principal has communicated their specific school schedules.
- If families choose to keep their students at home, we will need confirmation from the parent/guardian in order to excuse their absence. Absences with confirmation from a parent/guardian will be marked as excused. Please report absences as outlined by the school principal.
- Student safety is our top priority. We have the following protocols in place:
We are following all school safety protocols.
School principals have developed plans for the day to ensure student safety.
School and district administrators will be present to supervise students.
Substitute teachers have been hired.
We have additional front office support from the district at several school sites.
Agency nurses have been contracted to support our students.
Secondary school sites will have Team Success on campus for counseling support.
School meals will be provided for students.
- The YMCA will continue to stay open for before and after school care for students enrolled in the YMCA. The district will cover the cost of the increased time due to the minimum day schedule.
It is our continued hope and desire to reach a salary agreement with RPCEA. The last thing any of us want is to see our students, families, and employees' lives continue to be disrupted. We will keep you posted with any updates.
Sincerely,
Mayra Perez, Ed.D
Superintendent
Other Resources and Updates